Introduction
The American bulldog is a beautiful dog that comes from an old bloodline which includes the Old English Bulldog and all the other bulldogs available today.
History
The American Bulldog was developed by John D. Johnson and Alan Scott from the Old English Bulldog breed. They were specifically bred to be working dogs with the specific purpose of warding off feral pigs.
This type of work required a bigger dog with longer limbs to deal with vermin. What we ended up with is the American Bulldog you see today.
Appearance
An American Bulldog can best be described as a super-sized Bulldog. They're basically bigger, taller and have a more pronounced snout than your average bulldog.
The American Bulldog is a very muscular dog and comes in several colour variations. They have a square head and almond shaped eyes.
Temperament
Loyal, energetic, playful and relaxed, these are the characteristics that best define an American Bulldog.
Like most bulldogs though, these dogs are not advisable for people who have not had any experience with stubborn and headstrong dogs. They can be very dominant but proper socialization should be able to correct that.
Buy or sell American Bulldog puppies online
Health and Care
Bulldogs are notorious for having some genetic disorders that can impact their health in a massive way. Not the American Bulldog. This dog is very healthy and has little to no known ailments.
How do you take care of an American Bulldog?
All you basically need to do is provide shelter for this dog, feed him 2 to 3 square meals a day (high protein as much as possible) and take him out for a walk and you'll have a very happy and healthy dog.
Just don't forget to give him a regular bath once or twice a month because these dogs love to roll around in the dirt when they feel playful.
American Bulldog puppies for sale video gallery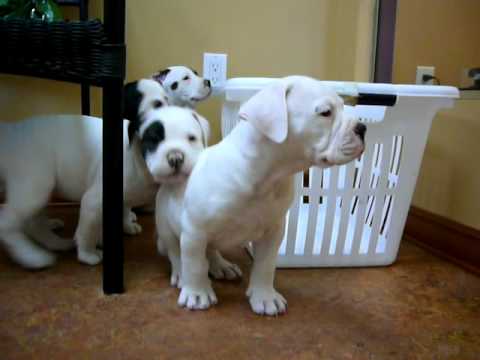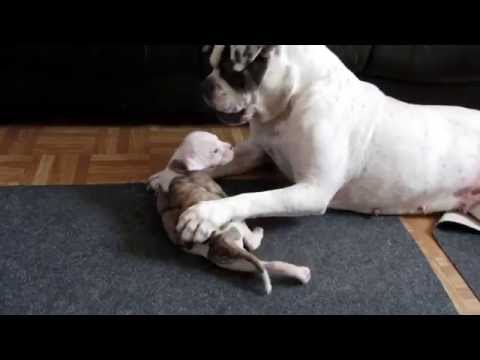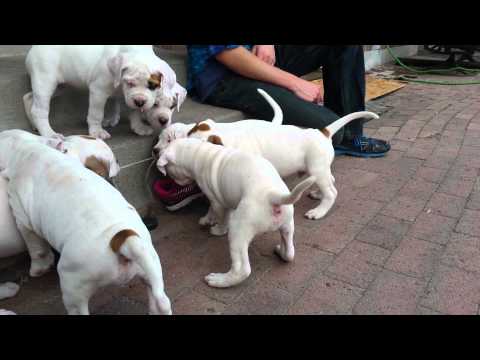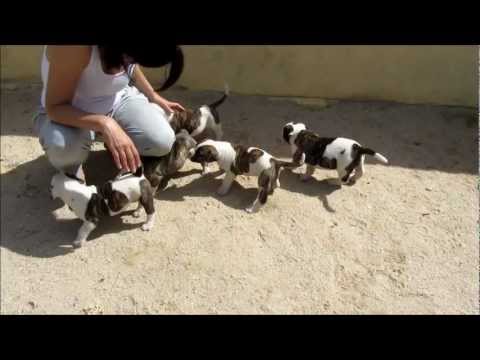 0 American Bulldog puppies for sale near you.
---
The American Bulldog has been described as a dog of 'true grit". These American Bulldogs puppies for sale may conjure up images of the old west and John Wayne. They are hearty dogs, no frills here. They are muscular, defined, agile, and strong; all the things that make a good cowboy. These dogs got their start as the descendant of the smaller English bulldog. The breed came about its name from the dubious sport of bull bating for which they were bred. Thankfully more humane individuals found the breed better suited for a number of more noble callings. The American Bulldogs of today like the dogs puppies for sale here carry out a number of responsibilities today. The breed is used as farm and ranch dog, watching over and moving livestock. American Bulldogs can be found helping in the hunt for everything from bear to squirrels. They are equally fitted for the role of guardian and loving companion. John D. Johnson of Summerville, GA understood and appreciated the potential and the beauty of these dogs. He is the sole reason these dogs are still around today. Mr. Johnson returned home from World War II to discover that the American Bulldog was literally nearly extinct. His diligence and love of the breed are why we still enjoy the breed today. Mr. Johnson and his family understood the importance of letting the world enjoy this protective, loyal, incredibly cognizant, and athletic animal. These traits make these dogs puppies for sale a plus to any household. These large dog, twenty-two to twenty-nine inches tall and weighing up to one hundred twenty five pounds, are generally push overs for children. They can become a valued member your family. The American Bulldog's protective nature and its large size is definitely a plus, but it requires much of its owner. The dogs puppies for sale will need an owner that will provide a great deal to ensure the puppy is given the opportunity to achieve its outstanding potential. The breed requires a great deal of exercise, both in mind and body. So, leaving it in an apartment and an occasional walk is probably not going to work. The American Bulldog is one that needs tasks and room to carry them out. They are thinkers. They are probably going to be best suited for home that is in the country or has a large yard. The owner will need to establish boundaries in a timely manner and continually and consistently during the development of the puppy. The owner will need maintain their role as "pack leader "at all times. If this commitment is made this breed will transcend its negatives and present you with nothing but positives. The short coat that comes in a variety of brindle and solids will be an easy groomer. Just comb and brush occasionally. The eye rim is the signatures of this breed. The rim is preferably black in color. Here is another plus; it is a light shedder. The only health issue is hip dysplasia. You and your vet can work through this, if it ever becomes an issue. These dogs puppies for sale may take an intently committed owner, but there is no doubt the family will be rewarded immensely for it. These have been known to lay down their lives to protect their owners. They are loving and affectionate dogs. They will be your child's or your playmate for over twenty years in some cases. This dog is well worth the effort. They are the cowboys and cowgirls of the dog world, tough but warm heart.