Introduction
Do you want a Samoyed but just can't get your hands on one? Why not get an American Eskimo Dog instead? They basically look the same but that's where all the similarities end.
History
The American Eskimo Dog wasn't developed in America. In fact, it was developed in Germany.
And although they were initially bred to be guard dogs, their cute appearance eventually led to further development which made them into toy dogs. Nowadays you have three types of American Eskimo Dogs. These are the: Standard, Toy and Miniature.
Appearance
Because of it's pure white coat, the American Eskimo Dog has often been mistaken to be a Samoyed. It is only the discrepancy in their size that sets them apart.
The American Eskimo Dog has a narrower face and has a smaller frame than a Samoyed.
Temperament
Another thing that sets the American Eskimo Dog apart from the Samoyed is their temperament. Where the Samoyed is quiet, the American Eskimo Dog is not. It is prone to barking for long periods of time.
The American Eskimo Dog is also not as tolerant as the Samoyed and has the tendency to snap at younger members of the family.
Buy or sell American Eskimo puppies online
Health and Care
The American Eskimo Dog is easy to care for. Its fur needs a lot of grooming to remove the excess fur and it has to be done at least twice a week. Constant grooming can also prevent matting of the fur which American Eskimo Dog often find very annoying.
The American Eskimo Dog is part of the Spitz line so they need a lot of exercise or else they will get bored and irritable.
The American Eskimo Dog is also a glutton so make sure you only feed it enough unless you want an obese dog in your house. Just remember that the excess bulk is going to prove very hard on their legs.
American Eskimo puppies for sale video gallery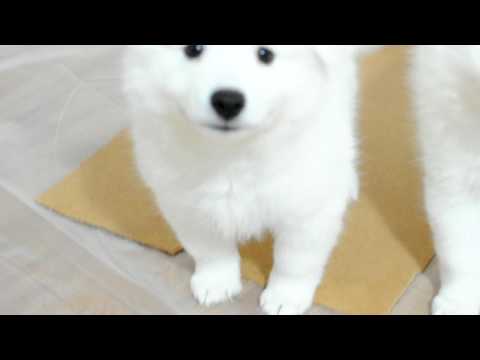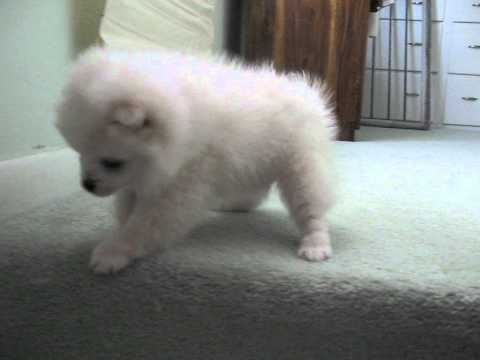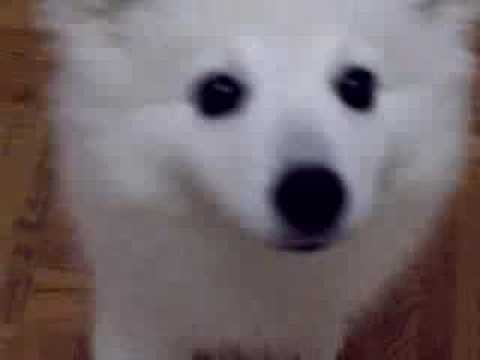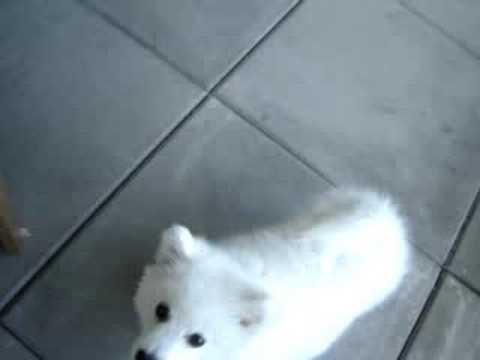 0 American Eskimo Dog puppies for sale near you.
---
The American Eskimo Dogs puppies for sale can probably handle any job you throw at them. The breed has been used as a tightrope walker, narcotics agent, guardian, and a professional athlete. The American Eskimo Dog has had an interesting history. The breeds name is a page right out of history itself. The American Eskimo Dog breed is not completely definitive in its heritage. It is known the breed is a part of the Spitz lineage, but it is uncertain of which strain. The breed that was collectively called the German Spitz was brought to the states with German immigrants. These dogs were registered with the UKC in the early twentieth century. Somewhere around 1917 Mr. and Mrs. F.M. Hall, of the American Eskimo Club, registered the breed using the clubs name. The name change to American Eskimo Dog was in part due to the anti-German sentiment that existed in the United States around World War I. The breed became even more popular in the United States after Barnum and Bailey Circus introduced the world to the first tightrope walking dog. This did wonders for the breeds reputation. It became a must have. American Eskimo Dog clubs were formed and finally in 1995 the breed was recognized by the AKC. The American Eskimo Dogs puppies for sale can probably handle any job you throw at them. The breed has been used as a tightrope walker, narcotics agent, guardian, and a professional athlete. It is no wonder the American Eskimo Dogs puppies for sale are so popular. Their appearance alone is enough of a reason. They are luxurious looking breed with their plush white coats and their fox like faces. The American Eskimo Dogs coat comes in a striking white and may or may not have biscuit or cream colored markings. Some males may have thick hair around the neck that resembles a mane. The coat shouldnt be seen as intimidating. Grooming is no big deal. A once a week brushing and combing is plenty. The affectionate and loving nature of the breed is definitely a plus. Even the largest of this breed, the Standard, can sit in your lap with ease. The smallest of the breed is only around ten pounds at its heaviest; the Standard is only thirty-five at its heaviest. This makes this loving dog an ease to hug and reward with snuggles and kisses. They love children and can be easily managed by a child with guidance. Make no mistake, even though American Eskimo Dogs puppies for sale are small in size, they will need a firm pack leader. You will need to secure this role from the start. These dogs are very loving and very small. It is because of this you may be tempted to be slack on training, and behavioral issues. How much of a problem could they become, you may think. A huge one is the answer. Obsessive barking, spinning in circles, and other undesirable behavior may manifest themselves. This can be stopped before it ever happens by mental and physical exercise, as well as your engagement as a loving and firm pack leader. The sky is the limit for these dogs. They are easily trained due to their eagerness to please and high intellect. They are very friendly, even to strangers once introduced. There are some health issues with this breed. You would be well advised to speak to your vet, who will be able to advise you on your many options as a care giver. The positives of these loving historically talented American Eskimo dogs puppies for sale are far greater than their cons. Your family will adore them.