Introduction
One of the greatest imports to ever arrive on our shores is the English Mastiff. This is probably one of the greatest dogs out there with his pleasing personality and excellent guard dog capabilities.
History
The English Mastiff is descended from the Alaunt and the Pugnaces Britanniae and has come into possession of all the great things about his ancestors. Although the English Mastiff is primarily a guard dog, he was also bred to be the calm and gentle giant that he is today.
Appearance
The English Mastiff is a massive dog with a brown or tan coat.
He also possesses a huge square and wrinkly head with an abundance of wrinkly folds.one defining feature of the English Mastiff that sets him apart from other mastiffs is the blackened face that gives him a rather stately look.
This dog looks bored all the time but underneath that aloof exterior is a dog that is very affectionate and loyal towards his owners.
Temperament
The English Mastiff best exemplifies the calm demeanour of its country of origin. This is a very calm and relaxed dog with a dignified air around it.
The English Mastiff is a very good guard dog even if he doesn't look the part. He may be sitting or lying down with a stoic look on his face but he can change at the drop of the hat into a courageous guard dog who will lay his life down to protect his loved ones.
This dog is very tolerant and is perfect for kids. He can withstand all of the poking, prodding and pulling without any complaint. And if it gets too much this dog oftentimes just gets up and leaves the room until everyone has calmed down.
Buy or sell English Mastiff puppies online
Health and Care
The English Mastiff may look and act like he is a lazy dog but that doesn't mean it doesn't need some exercise. A quick walk around the block should be enough exercise for the English Mastiff on a daily basis.
English Mastiff puppies for sale video gallery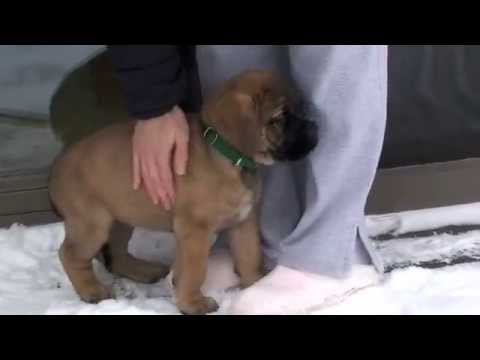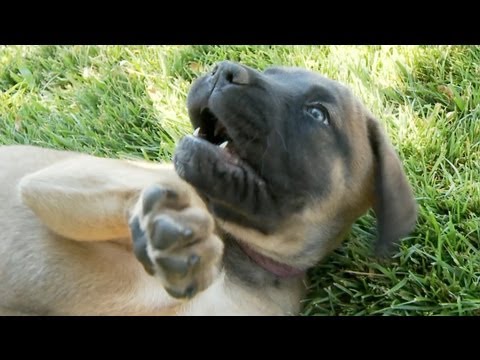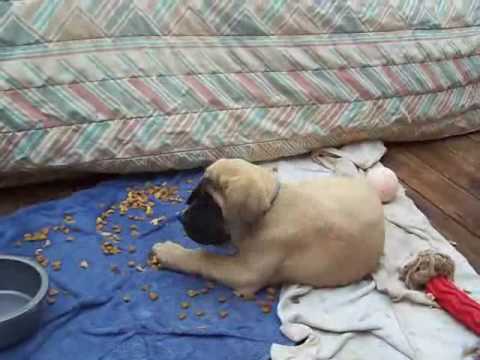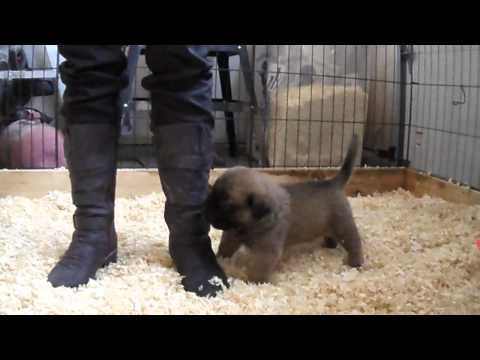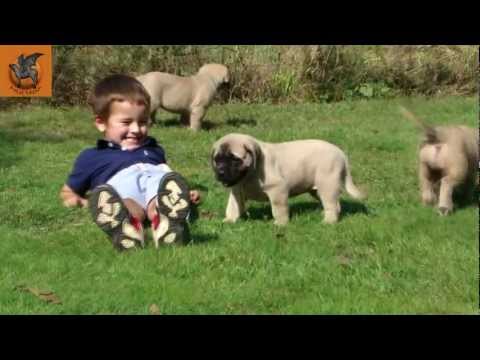 0 English Mastiff puppies for sale near you.
---
When looking for English Mastiff dog puppies for sale, this breed may be referred to as simply the Mastif or the Old English Mastiff. The English Mastiff breed originated in Britain. This is a very old breed with images depicted in Egyptian monuments as early as 3000 B.C. The English Mastiff was taken to Rome by Caesar and used for fighting against lions, bears, and human gladiators. These puppies for sale were popular with peasants in English as a watch dog, guard dog, and companion dog. After World War II, this breed was almost extinct in England but this breed was re-established in Britain from dogs imported from Canada and the United States. The English Mastiff was recognized by the American Kennel Club (AKC) in 1885 as part of the Working Group. The English Mastiff is a massive, large boned, muscular breed with a massive head. Though these puppies for sale were once valued for their ability as a guard dog and a fighting dog, todays English Mastiff is a gentle giant. The English Mastiff averages between 27 to 30 inches in height and weigh between 150 and 160 pounds. The life expectancy of this breed is between 10 to 12 years. Health problems associated with the English Mastiff include: hip and elbow dysplasia, bloat, allergies, hypothyroidism, progressive retinal atrophy (PRA), and persistent papillary membranes (PPM). This breed tends to snore, wheeze, and drool. The English Mastiff is inclined to be lazy and prone to obesity. It is up to their owner to make sure the puppies for sale get regular exercise to keep them healthy and fit. The largest dog recorded in the 1989 edition of the Guinness Book of Records was a 7 year old English Mastiff by the name of Zorba. Zorba was basically the size of a small donkey standing 35 inches in height and 8.25 feet from tip of nose to tip of tail. The coat of the English Mastiff puppies for sale is smooth, short and easy to groom. An occasional brushing with a firm bristle brush or a toweling off to remove loose hair is all the grooming that is required. This breed is considered an average shedder. The coat colors of the English Mastiff are apricot-fawn, silver-fawn, fawn, or a dark fawn-brindle. No matter the coat color, this breed always has a black mask (black on the muzzle, nose, ears, and around the eyes). When you see English Mastiff dog puppies for sale and make the decision to make an English Mastiff a member of your family, you will find this breed to be very loving, gentle, loyal, and to bond with their family. Even though the English Mastiff is a large dog, they are relatively inactive indoors and do well living in an apartment. The English Mastiff puppies for sale are very even-tempered and patient; they get along well with children. The English Mastiff is surprisingly gentle for their size; however, this breed is very protective of their territory and family and is an excellent guard dog. If an intruder is not intimated by the sheer size of this breed, the English Mastiff will typically position himself between his family and the intruder. Even if the intruder is threatening, the English Mastiff will rarely attack instead using their size and bulk to pin and immobilize the intruder. Due to the size of this breed, training at an early age is of utmost importance. The English Mastiff puppies for sale respond well to patient and firm but gentle training.