Introduction
The Miniature Pinscher or Min Pin as he is fondly called is one of the more instantly recognizable toy dogs in existence today. He is one of the most sought after toy dogs today which has lead to the breed earning the nickname "King of Toys".
History
The Min Pin may look like a Doberman Pinscher but it isn't descended from that line. In fact, this is a very old breed that only recently gained popularity because most known celebrities found this breed really cute.
Appearance
The Miniature Pinscher looks just like what his name says: he is a miniaturized version of the Pinscher we know today.
Temperament
The Miniature Pinscher is notorious for being a very alert dog and will act just like his bigger version. This dog does not realize that he is a tiny dog and will act just like his larger counterparts.
The Miniature Pinscher also has a high prey drive which could pose a problem if you live in a household with other pets. Proper socialization should be imposed as early as possible.
The Min Pin is extremely intelligent and curious but they easily get bored if there is no activity around them.
Buy or sell Miniature Pinscher puppies online
Health and Care
The Miniature Pinscher is a fragile dog and can suffer from broken bones easily. Since they tend to climb up on high places, they are extremely prone to injuries from falling or landing wrong on their feet. Try to discipline your Min Pin so that it doesn't develop a tendency for climbing up on furniture and injuring himself.
These dogs only have a light fur coat so keep him warm with a doggy sweater if its cold to avoid freezing.
Give your Miniature Pinscher a lot of exercise to wean off its excess energy and try to incorporate agility drills to keep him interested during training sessions.
Miniature Pinscher puppies for sale video gallery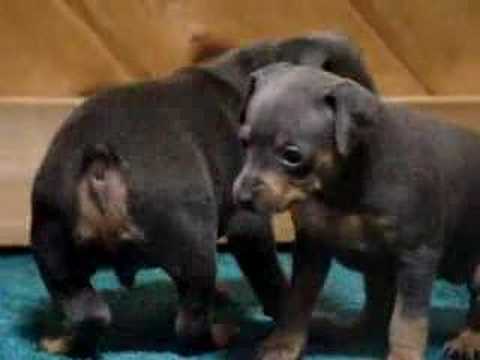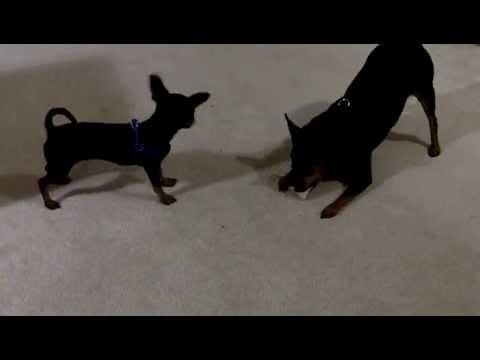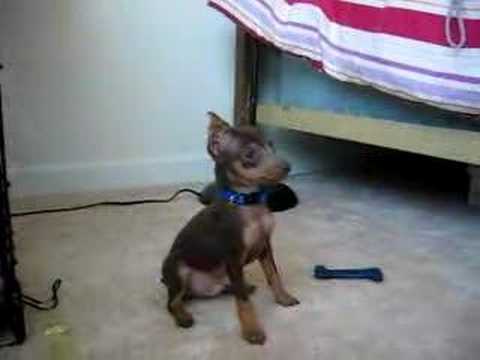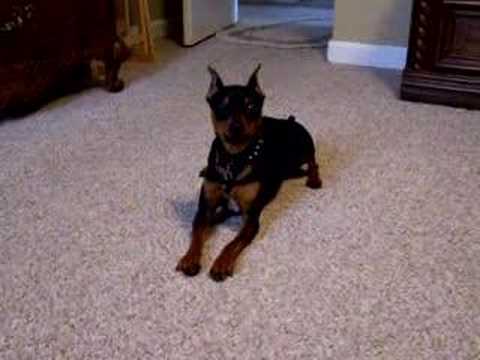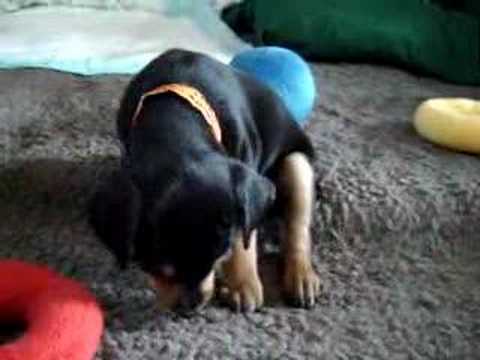 0 Miniature Pinscher puppies for sale near you.
---
The Miniature Pinscher puppies for sale are small dogs which originated in Germany. They are probably related to a mixture of Italian Greyhounds and Dachshunds. The Miniature Pinscher puppies for sale were bred to hunt small mammals, especially rats that spread disease in the European cities. These little puppies for sale are a working breed and not just a toy. The Miniature Pinscher has long legs and a small body which makes it almost cat-like. Because of the flexible body, the dogs are very agile and are able to curl up in almost any position that makes them comfortable. The thin legs allow the puppies for sale to be prone to broken bones in the first few years of life. They should not be allowed to jump from high places and onto hard surfaces. The dogs are also prone to dislocating the kneecap because of their jumping. The puppies for sale will range from 10 12.5 inches in height and his weight will be proportionate but generally under 15 pounds when grown. The coat is short and smooth and will vary in coloration from re to chocolate with tan or rust highlights. The dogs puppies for sale generally have their ears cropped and sport a docked tail. The dog is driven hard by the rear legs and the head and tail are held high. A high stepping gait is considered a fault by judges. The Miniature Pinscher puppies for sale will be a loyal dog that thrives on any interaction that comes his way. They are a real family dog and need to feel that they are part of the pack. They need to be exercised regularly and not just put in a yard to run. A bored Miniature Pinscher will eventually become destructive and will start chewing anything that comes his way. Your interaction is very important to the puppies for sale. Miniature Pinschers not brought up with children may have a problem with the children. They will tend to bark a bit but that is part of being protective and not antagonistic. The children will have to be instructed in the correct way to play with the puppies for sale and must realize that rough play can hurt the dog. Being high strung also means that the dogs will not take much rough play. Miniature Pinscher puppies for sale are very territorial which could cause some problems when the children start invading what the dog perceives as their space. When walking, this dog must be on a lead and cannot be trusted to stay close if not on lead. Grooming is really not much of a concern for the puppies for sale. The coat is smooth, short and requires very little attention to keep it looking good. A brushing and a shampoo now and again is all it takes to keep the dog looking and smelling good. Cold weather is rough on the Miniature Pinscher as the animals coat does not provide much protection or warmth to the dog. Hot weather is no different as they do not like air conditioning that is set too low. Miniature Pinschers can get into trouble by eating things that should not be eaten. A good example is a bottle cap from a soda. For some reason the Miniature Pinschers find those things attractive and they end up ingesting the cap. This could cause a choking incident which may prove to be serious. Miniature Pinscher puppies for sale are also prone to overeating. A strict diet should be maintained for the dogs in order to prevent having an overweight dog. These puppies for sale have an insatiable curiosity. Almost anything can stimulate the creativity of the Miniature Pinscher. Anything that makes an interesting noise will keep the dog busy for hours. Avoid toys that are made of plastic as they will eventually chew small chunks off the toy. Rope toys are the very best for this strong little dog. These puppies for sale are active, loyal, and protective. The Miniature Pinschers are unique little dogs that will become a member of your pack and be happy to be there.